Books
Seasons of Sun

When a shy American teenager travels with her mother to the mountain village of Vassara, Greece, after the death of a family member, she is overcome with grief.  By discovering her heritage, she stumbles upon a gateway to a new life. 

 

What starts out as a holiday abroad quickly turns into the discovery of a magical place, where love and friendship endure through time and where traditions of an ancient world survive modern change to bring about an inexplicable miracle. 

 

Summer after summer she cannot resist returning to her mother's homeland and the enchanting village that enraptures both her heart and soul.  Nothing-not even a raging mountain wildfire-can keep her away from the people and place she loves.  As she matures from a girl to a woman, she falls in love for the first time and faces a difficult choice between the familiarity of home and the enticement of an uncertain future.

 

Seasons of Sun is a coming-of-age tale that opens the heart to discovering life and love in unexpected places.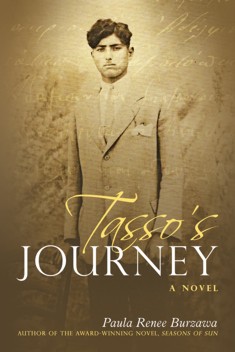 If you loved Seasons of Sun,
   you'll love Tasso's Journey
    When the Greek army calls retreat near the Albanian  border before the Nazi invasion of Greece, Tasso rushes home to save his family
  Badly injured, he is near death when two good Samaritans  help him get home, but his happy reunion is interrupted when his favorite nephew is stricken with polio even as villagers prepare for an impending attack. 
  Tasso helps the doctors save his nephew's leg and leaves to rejoin his military unit, but he's taken prisoner along with his father-in-law.  The Germans take over his family home, bringing unimaginable hardships to his wife and children. 
After Axis powers surrender, peace is still unattainable as civil war erupts, setting Greek against Greek.  Nothing can prepare Tasso for what is to come, not even victory.